Product Overview
Lumen®X programming technology and PSV programming systems
Data I/O's LumenX programmer is used to load a customer's data file (ex. automotive advanced in-vehicle  IVI system, navigation map, boot code etc.) into the embedded Flash device during the manufacturing process for the end application.  Each LumenX can program up to 8 embedded flash devices in parallel at a time.  The LumenX programmer can be used as a stand-alone manual programmer for NPI and First Article runs or integrated into Data I/O's PSV7000 or PSV5000 automated programming system for volume production.
How it works ?
The LumenX programmer can support virtually any Western Digital embedded Flash memory device at maximum programming speeds.  LumenX supports:
eMMC 4.1 – 5.1, UFS 2.0 and 3.0, SD devices including the latest Western Digital iNAND AT EU312 EFD and iNAND® IX EM132 EFD
Programming performance up to 160 MBytes/sec
Download speed up to 50 MBytes/second
Large image file supports up to 256GB and extensible up to 512GB
The PSV7000 automated programming system supports up to 14 LumenX programmers per system enabling customers to program up to 112 embedded Flash devices simultaneously for maximum production throughput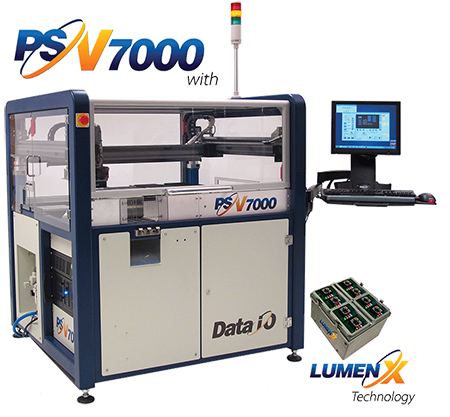 Use Case
Automotive electronics, Internet of Things (IoT) and Industrial Internet of things (IIoT) power mission critical application.  A high-quality storage solution combined with a high-quality and high speed programming process for these devices during manufacturing is a critical to the overall performance of the applications.  Data I/O partners with Western Digital to support the latest embedded Flash devces on our LumenX® programming platform to deliver a high-endurance, reliable storage needed to ensure proper operation of mission-critical products.  
With over 250 PSV automated programming systems installed globally, Data I/O has the expertise that electronics manufacturers can rely on to support their new designs in production. Western Digital, with its leadership in data storage technology, has long been at the forefront of game-changing innovations. Together, Data I/O and Western Digital will transform how customers take their new designs into production securely, seamlessly and swiftly.
For more information on the flash drives, please contact OEMProducts@WDC.com. For more information on the Lumen®X programming technology and PSV programming systems, please contact higginj@dataio.com. 
© 2018 Western Digital Corporation or its affiliates. All rights reserved.